The Differences Between Essenlite Hydra Derma Stamp and Ordinary derma stamp
In recent years,due to increasing popularity of mirconeedles.More and more derma stamp appeared in the beauty market.They have different prices,of course the quality and effect are also different.
What is
Derma Stamp
? --its principle and benefit
Derma stamp is the new product for the skin regeneration.
By forming an effective essence delivery system between the epidermis and subcutaneous tissue,derma stamp can deliver the active ingredients directly into the skin.
With regular treatments derma stamp can boost the collagen production, increase the efficacy of your skin care and reduce the appearance of anything from fine line and wrinkles to acne scars.
So, what is the difference between Essenlite Hydra Derma Stamp and Ordinary derma stamp?


1.Needle
Essenlite Hydra Derma Stamp adopts the non-allergenic medical grade Stainless Steel needle plated with 24K genuine gold.
The penetrate needle diameter is just 0.13-0.25mm in thickness.
The gold-plated needles are more sharp and not be easy to fade or wear.And that, 24K needles also can effectively prevent oxidation and the corrosion of cosmetics.
What's more, Essenlite Hydra Derma Stamp is even suitable for the most sensitive skin,because the needle will not easy to cause allergic phenomenon.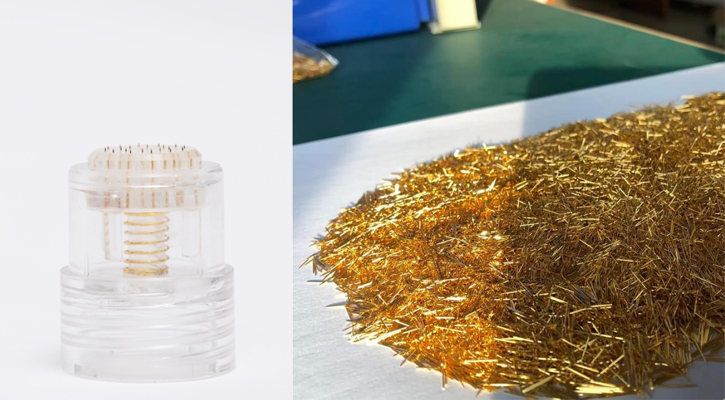 Ordinary derma stamp is used inferior stainless steel needle.
They are generally plated with imitation gold or not plating.This will cause the needles corrosion by the cosmetic and rust easily.Long-term treatment with these inferior needles will cause great damage to the skin.
In addition,the tip of inferior stainless steel needle will bend easily after use it one time,that will make the skin occur bleeding and aggravate the pain.

2.The state of liquid delivery
Because of the pump principle,make the Essenlite Hydra Derma Stamp suitable for all the liquid or oil cosmetics. Any consistency of liquid can be delivered equably and smoothly.
Greatly improved the accuracy of the essence into skin and reduce the number of medications,maximize the effectiveness of treatment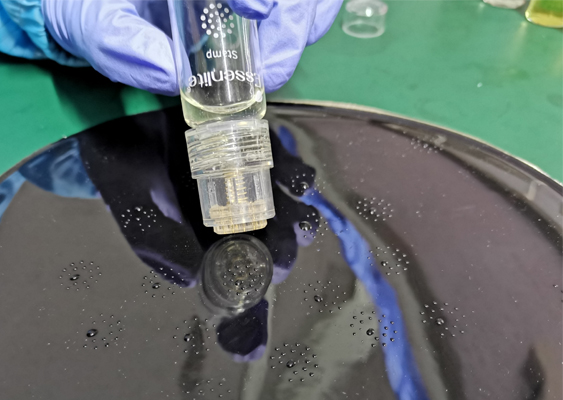 However,the liquid of Ordinary derma stamp is uneven,and not each pinhole can export the liquid.
So, it will lead to more waste the cosmetic, but can not be absorbed by the skin.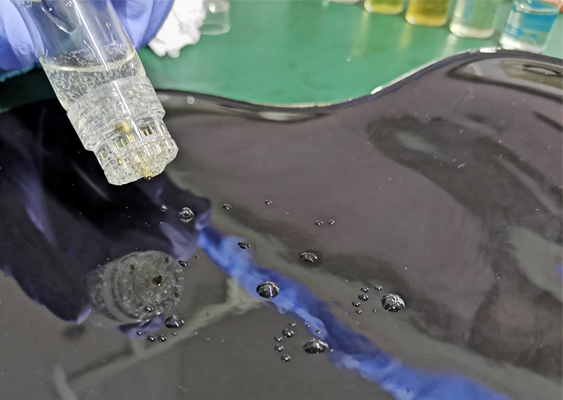 3. Sterilization & Package
In order to strictly according to ISO13485 international quality system,Essenlite Hydra Derma Stamps are sterilized with Ethylene Oxide Gas.
EO gas is an alkylating agent that disrupts the DNA of microorganisms, which prevents them from reproducing.
Besides,Ethylene Oxide Gas is according to regulation of EN ISO11135-1:2017.
And that,the inner package are polyvinyl chloride(PVC) and Medical Dupont paper,which have excellent air-tightness,can prevent bacteria enter and ensure Derma Stamp free of bacterium within its shelf life.