VT528 Four wave length 4d laser fat burning device
4D lipolaser instruction
Researched and designed by Dr.Nogier, Dr. Bahr and Mr.Bruno (physicist and mathematician), we together
make the 4D lipolaser come true. With four wavelength diode laser, it is more than effective to reduce the fat,
but also improve the body healthy state.
635nm
(eg, fat reduce, increase cell-energy, Mitochondrien and ATP production, to supply body energy and promote
metabolism)
660nm
(eg, stimulate the lymph drainage and reduce the cellulite)
780nm
(eg, for all bone-illnesses (Arthrosis, arthritis, carpal tunnel), stimulates reparative cells and microcirculation)
980nm
(eg, same with 660nm, more effective to reduce fat and tighten the skin )
4D lipolaser applications
Fast fat reduce, weight loss
Skin tighten and lifting
Stimulate lymph drainage
Therapy for all bone illnesses
Increase cell energy, improve the metabolism
4D lipolaser features
4 wavelength lipolaser, 635nm, 660nm, 780nm, 980nm, working together
More effective to reduce fat, and more than weight loss
Smart operation system, easy to control
With large enough laser pads, to treat large target area
All originally imported diode lasers
Diode laser with long lifetime 8000-10000 hours
4D lipolasr pads
12 pads, 8 big ones (each 60 diodes), 4 small ones (each 12 diodes), total 528 diodes, each pad four wavelength
635nm, red laser, 100-200mw
660nm, red laser, 100-200mw
780nm, near infrared IR laser, 100-200mw
980nm, IR laser, 100-200mw
Each pad with design to connect with another one, so that it is easy to fasten them.
Mitsubishi diodes inside, lifetime is 8000-10000 hours.
Cooling system with cooper sylinder and fans.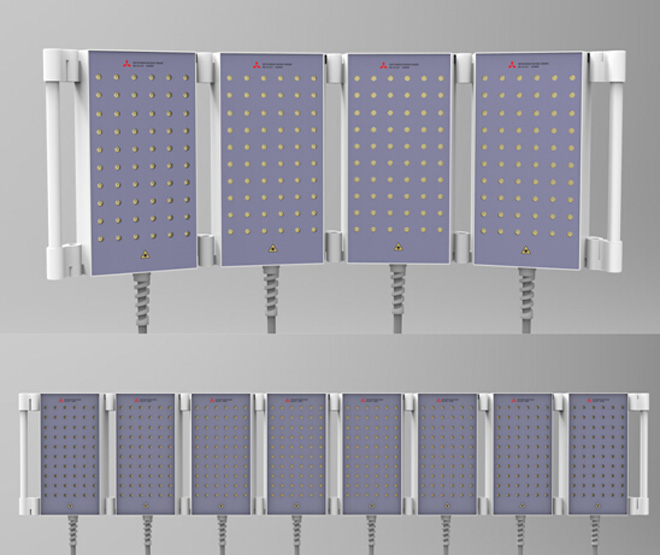 Specifications
| | |
| --- | --- |
| Laser type | Diode laser |
| Laser wavelength | 635nm, 660nm, 780nm, 980nm |
| Laser energy | 100mw-200mw |
| Working mode | Continue and pulsing |
| Laser pads | 12pcs, 8 big ones, 4 small ones |
| Laser diodes | 528pcs, each big 60pcs, each small 12pcs |
| Voltage | 110-220V, 50-60Hz |
| Machine power | 400W |
| Each laser pas power | 6W-12W |