VT100 Anti freeze membrane for cryolipolysis machine
Instruction
Anti freeze membrane is used during the treatment of the cryolipolysis, to protect the target skin from being frostbitten.
Ingredients: Deionized water, glycerin, butyl glycol, serine, Vitamin F, mango seed oil and 100% density antifreeze.
These products belong to beauty products with moisturizer and anti-freeze functions.
Anti freeze membrane photos
1. Packaging with 1pcs/ bag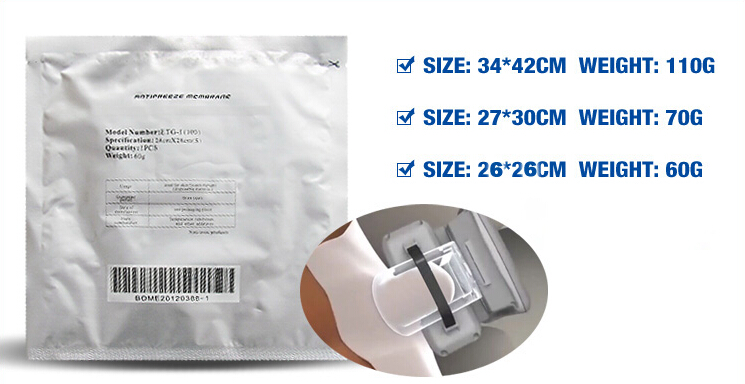 2. Other size,with 2pcs/ bag
Size

(S) 28*28cm, 100g/bag

(M) 32*32cm, 110g/bag

Anti freeze

Max -20C

Usage

Disposable use

Expire date

Three years

Packaging

2pcs/ silver bag

How to use?
Ø First, check the packaging if it is perfect without leakage, since the liquid is the main important actor to anti freeze.
Ø Second, unfold the membrane, and cover it on the target treatment area, make sure that the membrane is not broken.
Ø At last, put the cryo handle on the membrane to start the treatment.
Tips
The membrane is designed for disposable use, never for second use.
Once the packaging is opened, please use within 2 days.
Anti freeze membrane shipment
Since the membrane package contains the anti freeze liquid inside, according to the international transportation
code, the shipment cost is higher than other general goods, which belongs to the sensitive cargo.
Above is the main difference, others are as easy as the general goods.