ETG50-4s Four handles cryolipolysis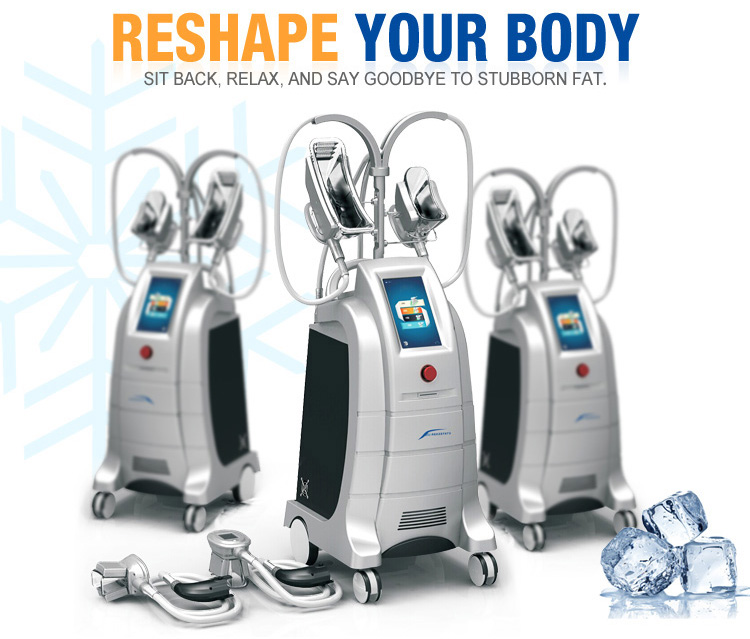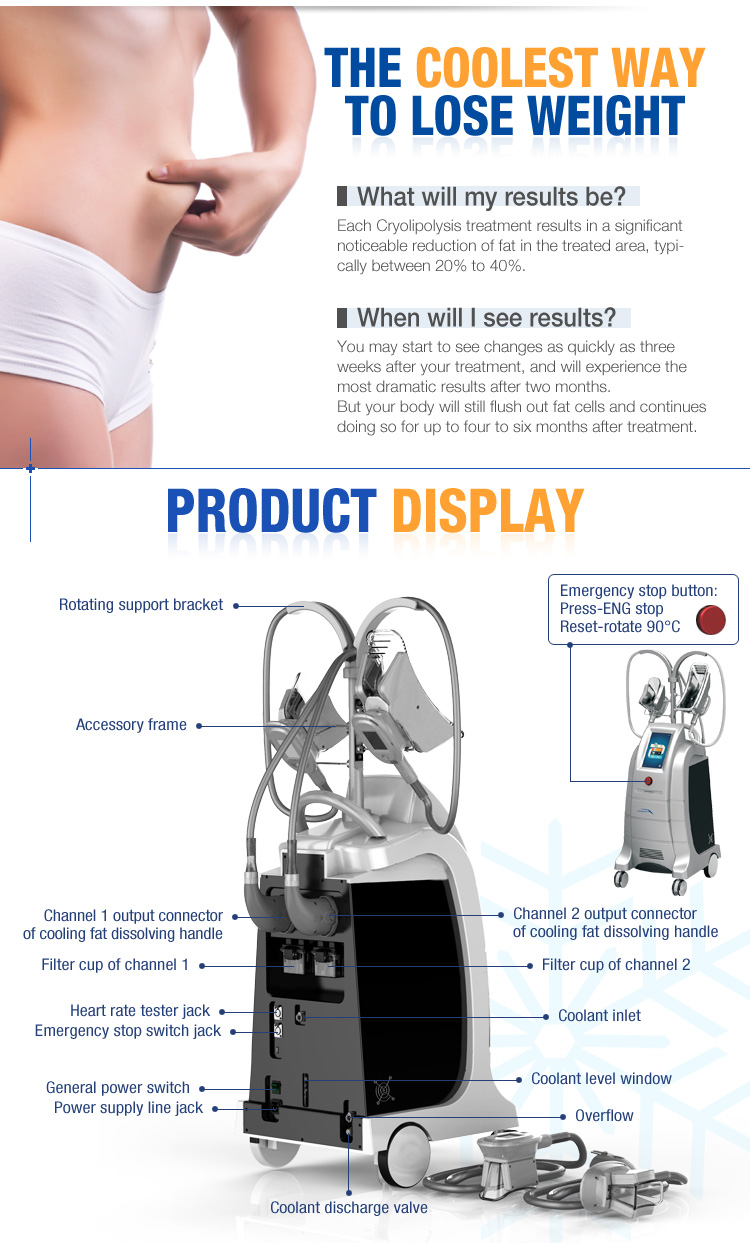 Cryolipolysis handle
1. 4 changeable cryolipolysis handles, for different target parts
2. Two cryo handles work same time, for two target areas or two different clients. That can help earn more
each day with more treatments
3. Start/ Stop treatment button on each size handle, easy to run the operation.
4. Treatment display on each size handle, to show the real treatment pressure and temperature.
5. Treatment cryo temperature is from 5C to -10C.Vacuum intensity 10KPa-80Kpa.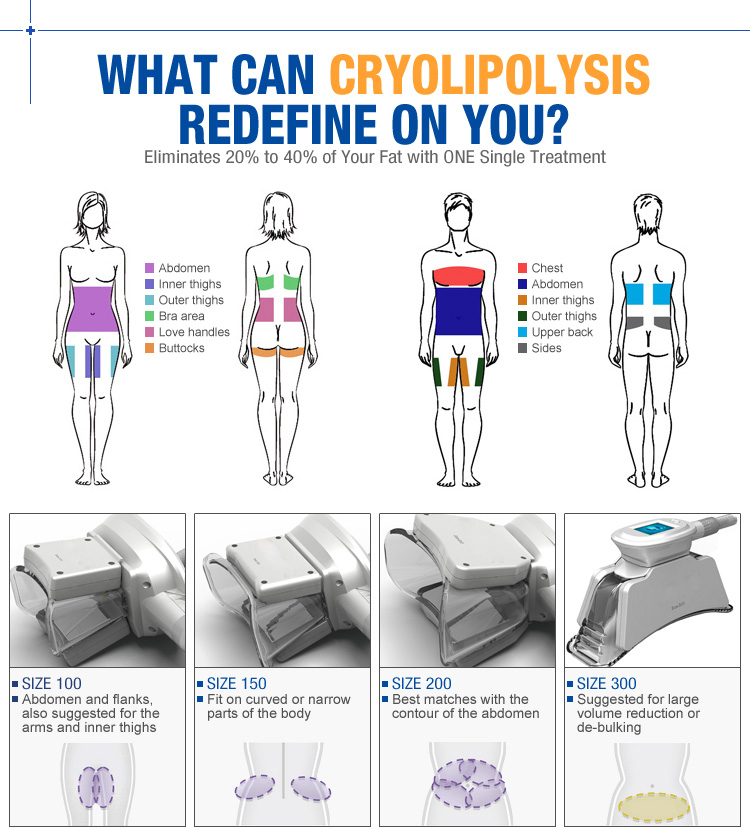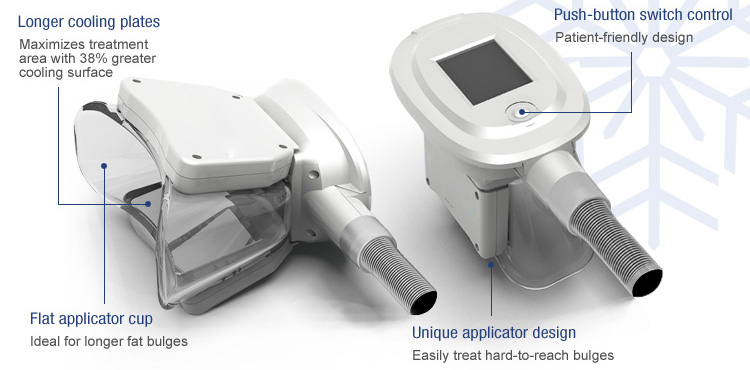 Machine features
1. Special hyperthermia mode. When that mode starts, the cryo handle light is red. That will heat the skin
up to promote the activity of the target area blood circulation, to reduce the discomfortable feeling during
the freezing treatment. Then the temperature comes down to the freezing treatment temperature as set.
That time the handle light is green, means the freezing treatment starts.
2. Patient treatment heart rate tester, to monitor the patient situation during the treatment.
3. Emergency stop handle in the patient hand, so the patient can stop the machine any time they feel discomfortable.
4. Three vacuum modes for different purpose to suck or massage the fat.
5. Two separate working systems:
Separate air pumps, ensure enough vacuum pressure
Separate control systems, two handles work independently
Separate water pumps, each handle with one water pump for effective cooling
6. 9L water tank, with big radiator and fans for best cooling, ensure the machine keep working without break
for 12 hours
7. High quality components with best inner structure design, to reach a high level performance.

Specifications
| | |
| --- | --- |
| Input voltage | AC110V/220V 50-60Hz |
| Power consumption | < 500w |
| Screen | 10-inch wide color touch screen |
| Cooling device output temperature | -11~45°C |
| Cooling device output pressure | 0-100KPa |
| Cooling liquid | pure water |
| Default time | 0-120min |
| Fuse size | F2AL250V |
| N/W | 75KG |
| Machine dimension | 44x48.5x96cm |
| Package size | 75x53x146cm |
| NW/GW | 75kg / 86kg |
Cryolipolysis anti freeze membrane
The antifreeze membrane is necessary during the treatment, to protect the skin from frostbiting.
Three sizes for option:
Size

(S) 26*26cm, 60g/bag

(M) 27*30cm, 70g/bag

(L) 34*42cm, 110g/bag

Anti freeze

Max -20C

Usage

Disposable use

Expire date

Three years

Packaging

1pcs/ silver bag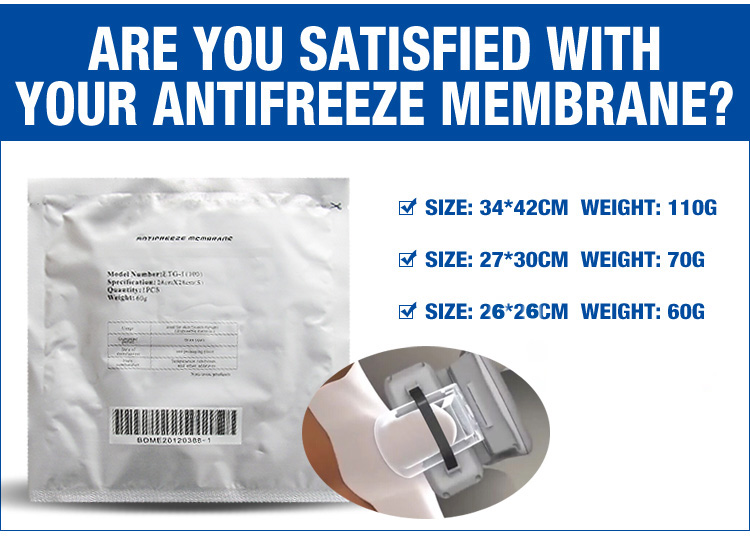 Free ask and answers
1. For weight loss, why cryolipolysis is better than cavitation?
For this question, there are two main advantages for cryolipolysis.
First, cryolipolysis is specially effective for the stubborn fat, such as fat on back, waist, abdomen, buttocks,
those area cellulite is difficult to be reduced by the traditional way as cavitation. Besides, Cryolipolysis treatment
results will last for months, while cavitation results is temporary.
Second, Cavitation is harmful for the healthy cells, when it destroys the cellulite, worse more, hazards for the
bones. However, cryolipolysis is only for the target fat cells, the process does not harm the surrounding tissues.
2. How many treatments it needs for the cryolipolysis?
Since the cryolipolysis results will last for months, we recommended one treatment each month, total 4-6
treatments will be great for the ideal results.
3. Any side-effect after the cryolipolysis treatment?
After the cryolipolysis treatment, the target area will become numb and redness, but it the natural effect,
will disappear within week.